I cannot imagine how people who need to stay home for 12 weeks are coping. Six days, and I cannot wait to be able to go out just for a walk.
I've started to wonder what the endgame is going to be. In the press briefing today (Sunday) the Deputy Chief Medical Officer suggested that it could be many more weeks of restrictions. At any point, the government, as indeed any organisation dealing with strategy, will be thinking about the endgame.
With limited information on how well the current measures are actually working, then it's not possible to forecast when we will be able to change behaviours, but someone somewhere has to be modelling this.
Multiple scenarios exist. In one, we could wait until the number of deaths no longer rises and then allow more normal life to resume. This might lead to further outbreaks, and subsequent restrictions, but could be a way of keeping things moving. This seems to be the approach in China
In another scenario, we could end up with deaths continuing to increase, since the virus has already spread over all of the country, and so the current lockdown conditions continue for a significant time.
Alternatively, deaths could continue to increase, but the decision could be made to relax restrictions to ensure that businesses, in particular food production and supply can continue.
In all scenarios there are multiple factors to consider. What happens once too many shop staff, too many deliver drivers and too many food production staff are ill or dead? How resilient are our just-in-time logistics, and how well could the country cope with serious shortages? Already farmers are highlighting a lack of migrant and other workers to pick vegetables that are soon coming into season. Social unrest will never be far from the minds of government, and shortages of food could lead to unfortunate behaviours.
As well as considering the short-term endgame – what we do to get back to business as usual– this could also be a time to reflect and consider what other changes we might want to see. What has been laid clear in this crisis is:
A realisation of the value of all workers, especially those on below average wages
A lack of resilience in our health service
The fact that experts are worth listening to
The importance of being prepared to change strategy when it is clear that a chosen one isn't right.
Heroes and Zeroes
For today's heroes how about three NHS doctors who have died of the virus
Amged el-Hawrani
Adel el-Tayar
Habib Zaidi
Bloody migrants, taking our jobs, coming to work in the UK, treating us when we are dying then dying in service, and even having families who are prepared to do the same.
Zeroes
The Mail on Sunday – blaming China for the existence of the virus, and the EU for the Prime Minister becoming infected.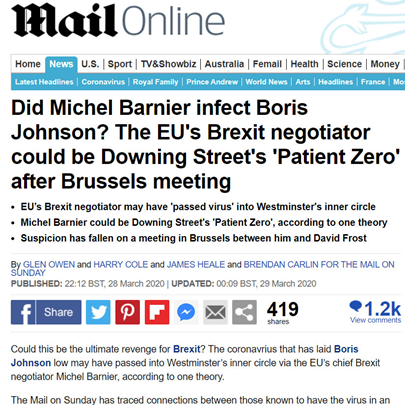 Don't forget that the Prime Minister was bragging of shaking hands with everybody only a couple of weeks ago, including Covid19 patients. And that he and others are meeting up with each other all the time. Dog-whistle journalism 101. In answer to the question "Did Michel Barnier infect Boris Johnson?": almost certainly not, but if you had testing and contact tracing, just think what you would learn!
The Mail and its journalists will be spending a lot of time from now blaming "foreigners" and not paying critical attention to failings in the UK. Or "business as usual in other words.
Conclusion
Monday is the last day of isolation and maybe it's time to look at a timeline of this crisis and the subsequent response.